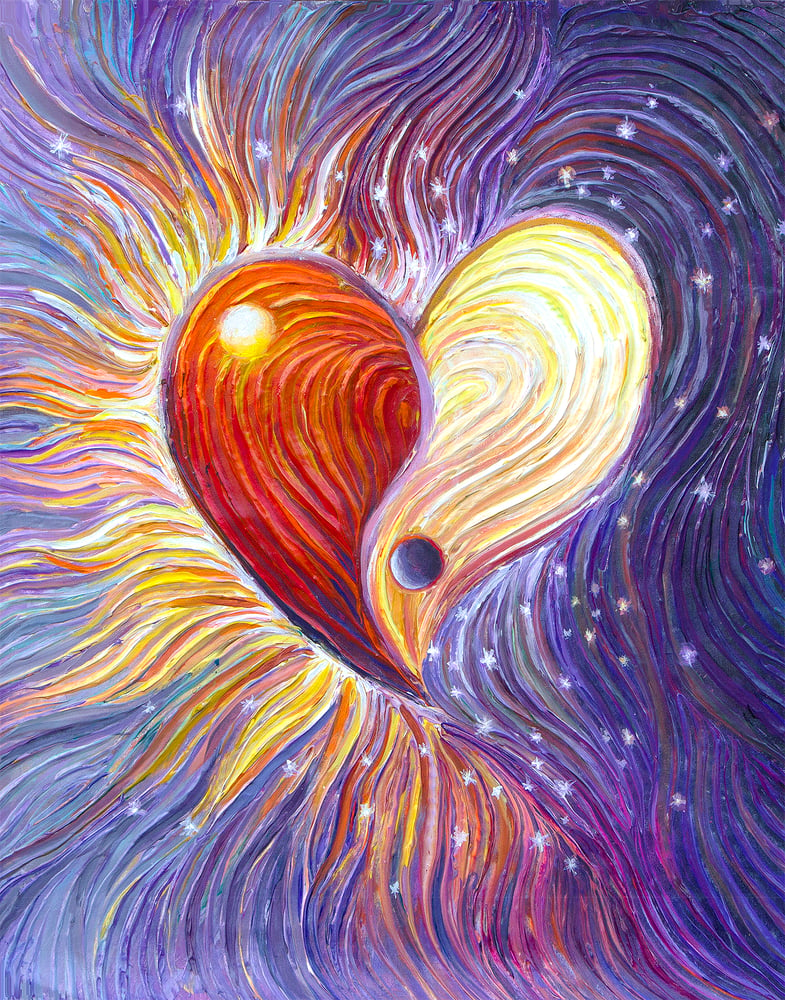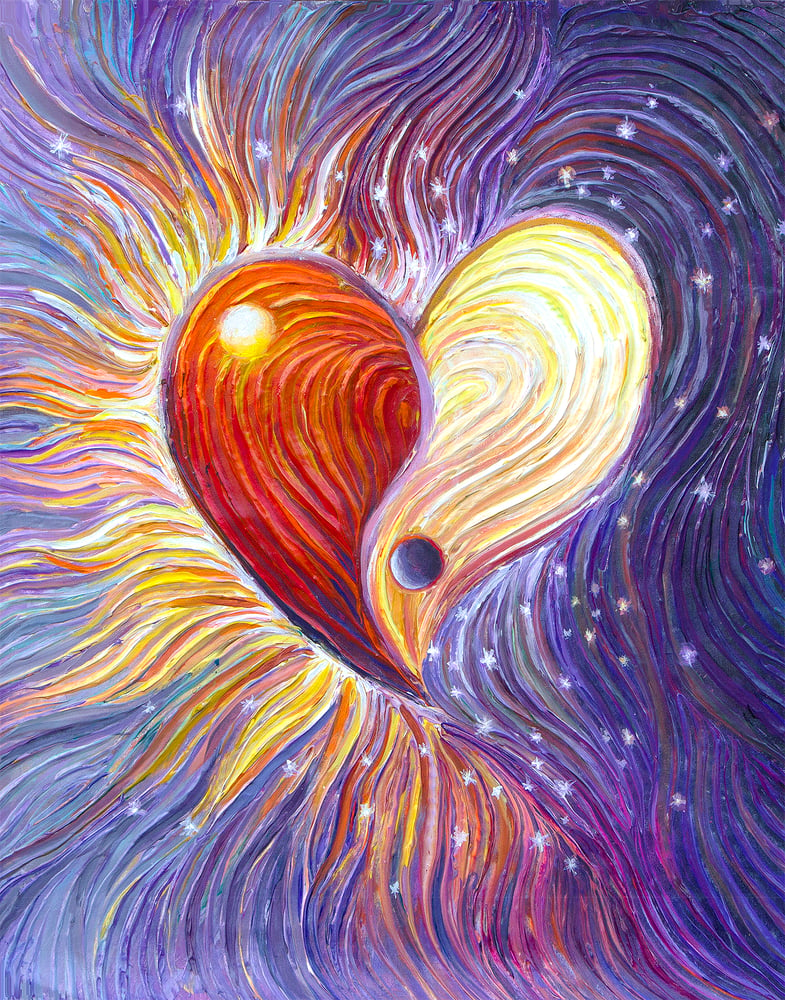 Yin Yang Heart Energy Painting - Giclee Print
$58.00
Do you feel negative political forces, anger, hate or rage surrounding you?
This Powerful "Yin Yang Heart" Metaphysical Image Rebalances The Energies Around You With Love, Harmony and Understanding.
It Penetrates & Eliminates Growing Forces Of Anger, Hate & Rage So Your World Can Once Again Be Bright & Beautiful
Stare Into It Now And Experience A Profound Change In Your Energies. Learn how it works below.
Click ADD TO CART to get one of those that are available.
We guarantee if you get this beautiful print, its energies will help ease your burden in life. If it doesn't work for you, return it within 30 days for a refund. *
____________________________________________
This energy channeled print is made with loving care in our Eagle, Colorado studio. Chakra balanced, energy enhanced and personally blessed by the artist. This is a high grade archival print which will remain vibrant and colorful for over 100 years. Sold with a 30 day money back guarantee and a 120 day exchange guarantee.
Click ADD TO CART to get yours while they are still available
____________________________________________
A PERSONAL NOTE FROM ENERGY ARTIST JULIA
Dear Friends,
When I recently realized that our world has become unbalanced by negative forces spreading hate and anger from all sides of the political spectrum, I decided to create something that would rebalance these energies around you, bringing love and understanding back to an otherwise crazy situation.
While I understand that people can disagree and can have different opinions, hate and uncontrolled rage, being spread by forces we cannot even see,  can have far more sinister effects on you personally as well as our society. I came to feel deep down that I needed to do something to help protect you and our world.
When I asked spirit what I could do to help, this image of the Yin Yang Heart appeared to me.  Spirit showed it to me in many dreams, moving across time and space among a beautiful group of swirling stars.  And each time I saw it, I felt a negative cloud lift from my presence.  I saw the world of love, joy, happiness and understanding return after what seemed like a prolonged absence.
I channeled these positive energies into this new Yin Yang Heart image.  If you focus on it now you will feel better and so will the people around you. I guarantee it.*
I know that staring into it really helps. Placing the image in your home or office dispels negative forces and gives you peace of mind. Wearing a pendant spreads the energies of love, harmony, balance and understanding to all those you come near.  
Click ADD TO CART to get one of those that are available.
_____________________________________________
WE GUARANTEE THAT THIS WILL HELP YOU
We guarantee that if you get a "Yin Yang Heart" energy pendant or print, and focus on it for two weeks, you will feel the negative forces of hate, anger and rage we have been seeing dissipate in your presence.  If it doesn't work for you, send it back within 30 days for a refund.*
*Our obligation and your remedies under this guarantee are limited to the price paid directly to us for the item. No other representations, warranties or obligations are made. We do not guarantee that this will protect you from dangerous or violent situations. Always take precautions.
___________________________________________
This item, images and writing all Copyright 2017 Julia Watkins. All rights reserved. May not be reproduced or copied without written permission.
NOTE: Larger prints (larger than our normal or smallest size) are custom order and therefore only returnable for a store credit.