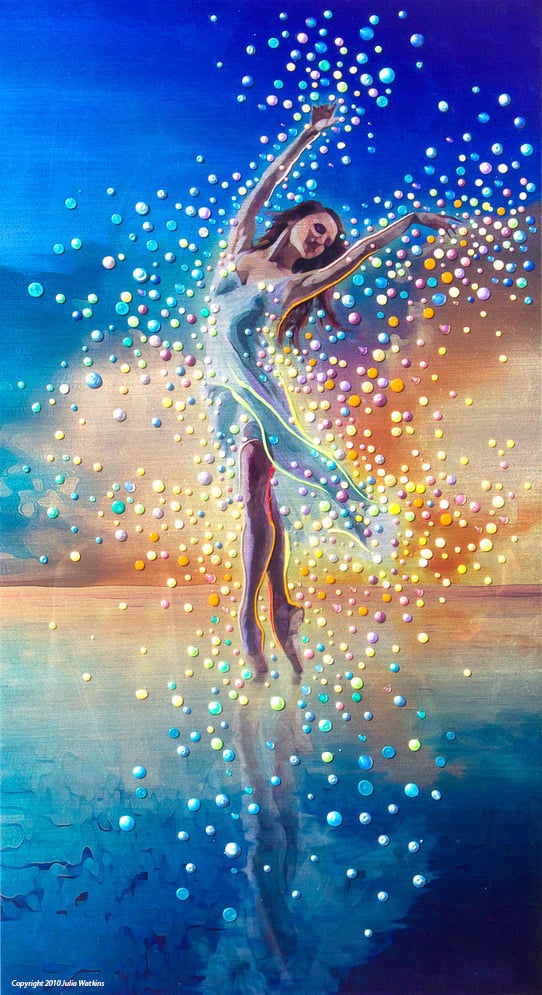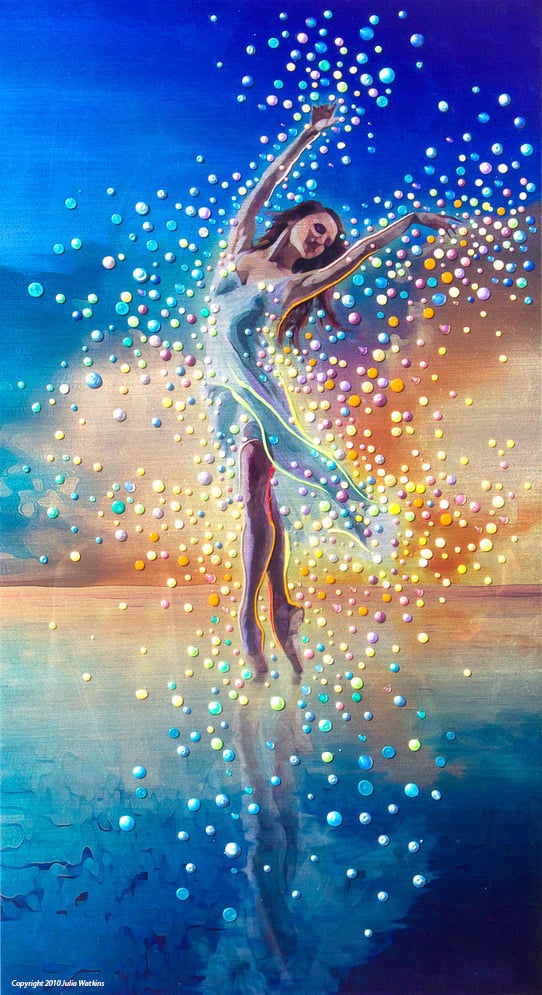 Water Dancer - In each of us is a bright and boundless spirit - Print
$58.00
A bright spirit knows no bounds.
In each of us is that spirit.
~Spencer Kluesner
Water dancer emits the energy of the fluid movement, of pure joy and light that magically overcomes barriers we believed existed. The water dancer teaches us that by focusing on our own internal bright spirit and positive thought we dispel the beliefs which created obstacles ... that in reality those obstacles only existed in our minds.
Nothing can withstand the positive waves of the water dancer as water can easily mold to any situation and overcome any barrier.
Negativity and doubt are immediately converted to positive belief. Focus on the image of the water dancer, make it your own and become the bright spirit that nothing can hold down.
Available Prints
We are offering top grade giclee prints based on this original painting. These are not posters but archival prints that meet the quality standards of museums and fine art collectors. They are rated to remain colorful and vibrant for over 100 years. Click "Add To Cart" to order one today. All measurements in inches.
About The Artist
A prodigy artist from a young age, Julia Watkins is best known as the founder of the Energism Art Movement, a style of art and concept where artists created art designed to help one connect to positive metaphysical energy and achieve higher levels of conscoiousness through art. Her paintings are in the collections of Deepak Chopra, Carnegie Mellon and Children's hospital.
For more information on Julia Watkins visit her website at http://www.platris.com or visit her on facebook and see what others have to say at: https://www.facebook.com/pages/Energy-Artist-Julia/153285945646
Please Note: DUE TO LARGE DEMAND FOR THESE ITEMS PLEASE ALLOW TWO WEEKS FOR YOUR ORDER TO SHIP. Larger prints (anything over our smallest size) are special order and are not returnable. Cancellations of larger print orders that have already been printed are subject to a 25% restocking fee. In addition, larger prints are shipped to us from out of state and can take an additional 1 to 2 weeks to ship.
This page, image and text © Copyright 2003 - 2013, Julia Watkins. All Rights Reserved.