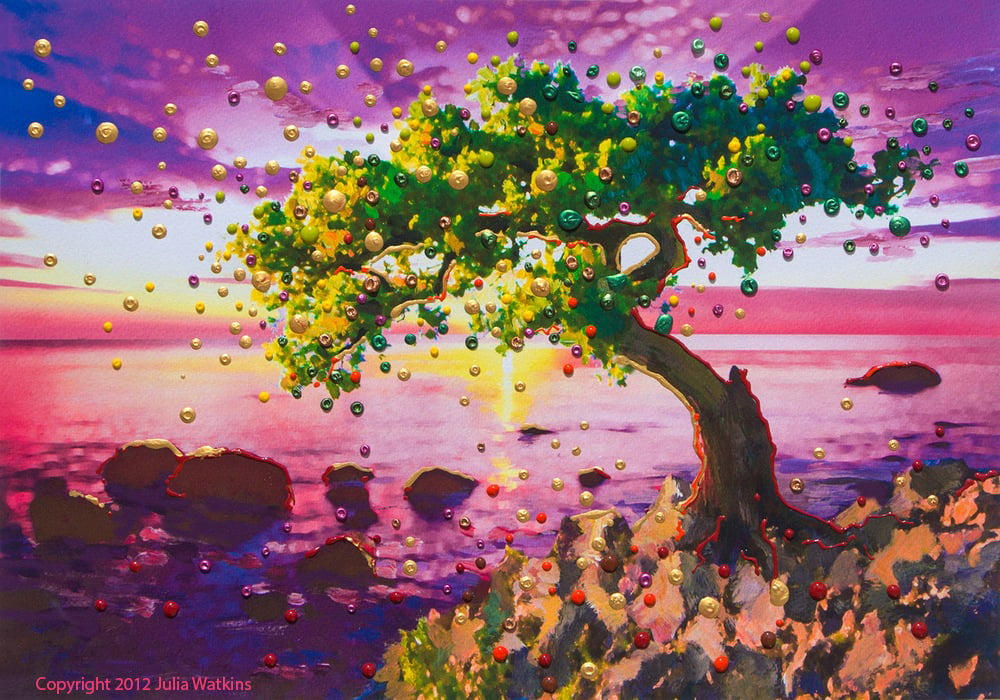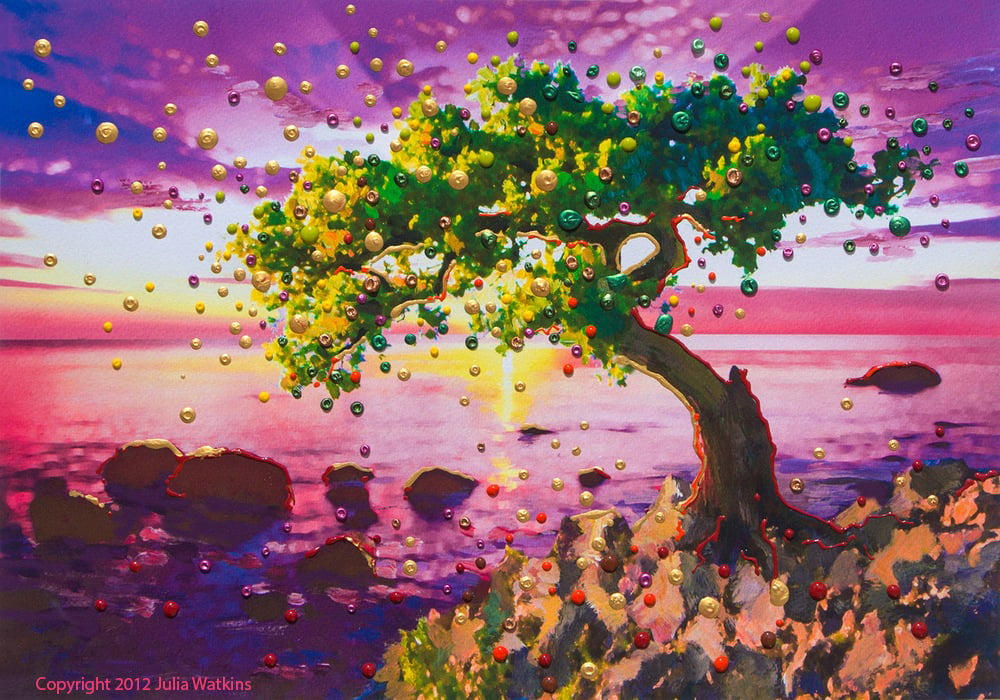 The Forgiveness Tree Energy Print
$58.00
Julia's newest creation lifts a weight from your shoulders –- allows you to let go of negative emotions from past hurts that are blocking your spiritual path and affecting your health.

Click ADD TO CART above to get yours today!


Hand made in the USA.
__________________________________________________
Buddha once said, "Holding on to anger is like grasping a hot coal with the intent of throwing it at someone else; you are the one who gets burned."



By focusing on this beautiful magical tree you are able to let go of the very destructive feelings of anger and hate felt toward those who have wronged you in the past.
Forgiveness doesn't necessarily let them off the hook, but through this image you realize that holding onto negative emotions only hurts you and blocks your path toward spiritual enlightenment and happiness in this life.
While bad things happen, if you let them define who you are you will be forever trapped into reliving them in your mind.
Forgiveness isn't about absolving them, but rather it is about healing you.
IT IS TIME FOR YOU TO FORGIVE, IMPROVE YOUR HEALTH AND FIND HAPPINESS
This can work for you too! Right now, if you think back over your past you can probably find negative feelings toward individuals who have wronged you. This is stopping you from living a full and happy life. It also is affecting your health and energy level.
Focus on the forgiveness tree and let its spiritually healing energy dissolve those bad thoughts which are actually hurting you.
Say to yourself: I release the negative energy of these experiences to a higher power. I am defined by the positive things I am and hope to be. I am now whole, moving forward and walking in the beauty of a world of possibilities.


I FEEL SO MUCH BETTER - YOU WILL TOO
I've been channeling the energy of the forgiveness tree myself. It is amazing how much lighter you feel, how much more joy you experience when you let go of past hurts. It feels like a huge weight has been lifted each time I discover a bad memory and release its negative energy.


THE ACTUAL PHYSICAL HEALTH BENEFITS OF FORGIVENESS
I did a little research and found that letting go of grudges and negative feelings can also have positive physical effects including:
Lowered Blood Pressure & Heart Rate
Better Sleep
More Energy – Less Fatigue
Healthier Relationships
Less Anxiety, Stress and Depression
Lower Risk Of Alcohol & Substance Abuse


YOU CAN'T AFFORD TO LET THE PAST PULL YOU DOWN
While forgiveness and positive thoughts can help you tremendously, the reverse can be said for negative thoughts. Countless studies show these thoughts can be devastating to your health and well being, not to mention your spiritual progress.


IT'S TIME TO LET GO OF THOSE THINGS RIGHT NOW!
The chakra balanced, energy enhanced image of the forgiveness tree can help you today!
Click ADD TO CART above and get started on a new and better path today.
____________________________________________________


ABOUT THE ARTIST
A prodigy artist from a young age, Julia Watkins is best known as the founder of the Energism Art Movement, a style of art and concept where artists created art designed to help one connect to positive metaphysical energy and achieve higher levels of consciousness through art. Her paintings are in the collections of Deepak Chopra, Carnegie Mellon, Longview Museum and Children's hospital.
For more information on Julia Watkins visit her website at http://www.energyartistjulia.com or visit her on facebook and see what others have to say at: https://www.facebook.com/pages/Energy-Artist-Julia/153285945646
Larger prints are special order and are not returnable.
This page, image and text © Copyright 2003 - 2014, Julia Watkins. All Rights Reserved.