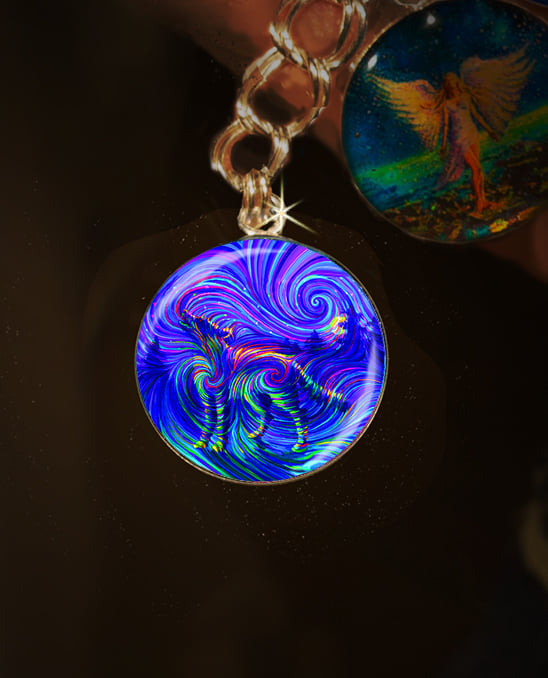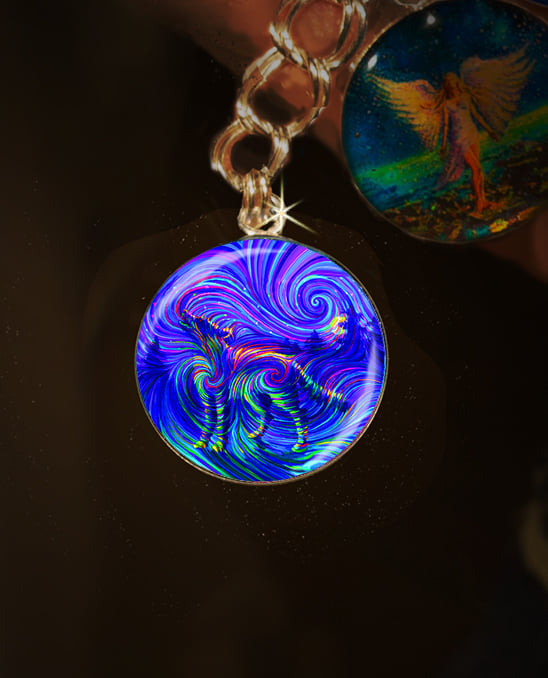 Spirit Wolf Mystical Energy Charm
$35.00
The spirit wolf teaches us to trust our instincts. In this piece, psychic intuition and spiritual insight chakras combine with the earthly plane, bringing these abilities to our world.


About
Based on the painting "Wolf Call" by award winning energy artist Julia Watkins, this exquisite piece conjures in us the primal feelings we sense when we hear a wolf howling in the wild.
It is named Wolf Call not due to the sound a wolf makes but rather signifies the wolf calling us back to our instinctual side, helping us rediscover and trust that deeply psychic connection we have through nature.
AVAILABLE CHARMS
About: Hand made with loving care. Chakra balanced, blessed and energy enhanced by the Energy Artist Julia. We pay special attention to detail and quality throughout this 7 step process.
Size: 3/4 x 3/4 inches.
Materials: Fired resinated glass & ground opal on silver plate. Price is for the charm only. Charm bracelets are sold separately.
CLICK "ADD TO CART" ABOVE TO GET YOURS TODAY!
* Due to the popularity of this item, please allow three weeks for it to ship.
__________________________________________________
RECOMMENDED CHARM COMBINATIONS AMPLIFY THEIR BENEFITS
Combining charms amplifies the energy of each. They work even better and you feel better.
There are no bad combinations, only good, but certain ones can be combined together on an individual bracelet to maximize your intended benefits.
This charm works best with the Medicine Bear charm both. Combining the two increases instinctual and spiritual awareness to a much higher level.
____________________________________________________
GET A FREE CHARM - SPECIAL OFFER
Order any three charms from our store and get a fourth charm of your choice free. Simply choose 4 charms total then enter discount code CHARM to get your free charm.
_________________________________________________
About The Artist
A prodigy artist from a young age, Julia Watkins is best known as the founder of the Energism Art Movement, a style of art and concept where artists created art designed to help one connect to positive metaphysical energy and achieve higher levels of consciousness through art. Her paintings are in the collections of Deepak Chopra, Carnegie Mellon and Children's hospital. For more information on Julia Watkins visit her website at http://www.platris.com or visit her on facebook and see what others have to say at: https://www.facebook.com/pages/Energy-Artist-Julia/153285945646