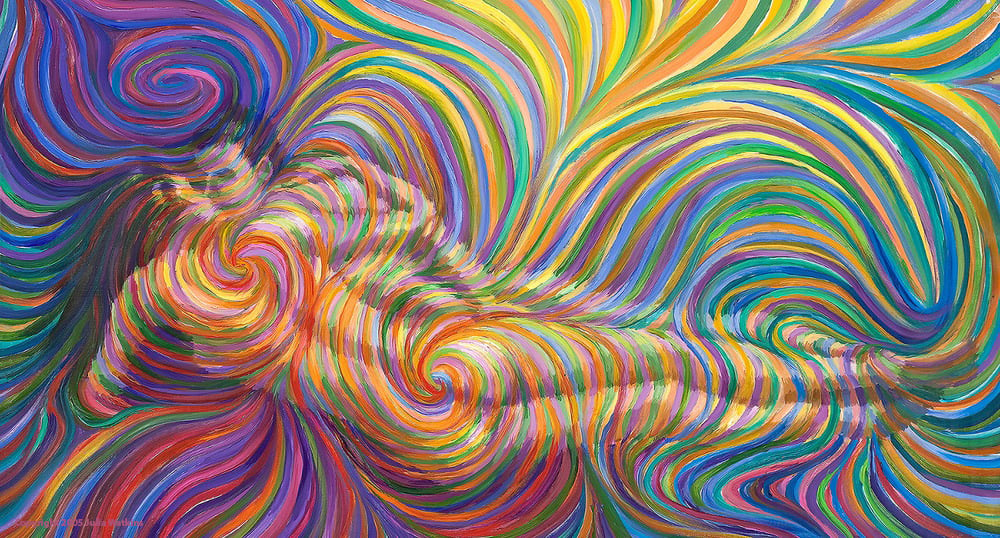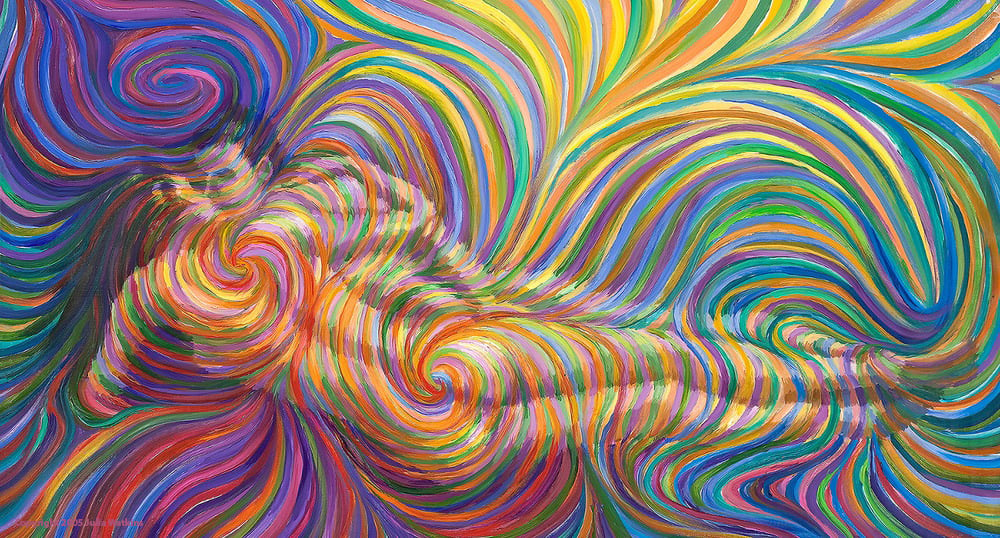 Reclining Lovers - Connecting over many lives.
$58.00
Two lovers joining over many lifetimes and worlds.
This hand signed giclee print by energy artist Julia Watkins captures the passion and complete abandon of two lovers. It is from the third painting in her lovers series.
Click ADD TO CART to get yours today!
About
I believe that lovers will find each other again and again over their many lives. I conceived this painting with this in mind, realizing it applies to many couples. Below is a poem my husband Spencer wrote about it.
Reclining Lovers
Come now.
Lay next to me,
again.
Close your eyes.
See angels in your mind.
Hear their singing in your heart.
We've found each other,
once more.
Through so many lives,
I've known you.
In so many ways,
You've touched me.
You've made me.
I've made you.
Our minds,
so much the same.
I knew you,
at the moment of my birth,
at each important point in my life.
I now realize,
that somewhere in my mind,
your presence watched,
and waited for the time,
the chance meeting that was really not chance.
Our souls waited for that time,
when we would join,
when in this life we would meet for the first time,
like so many times we've met.
I'll always find you,
no matter where you travel,
no matter where you're born,
or in which world you live.
Someday, maybe we'll ascend,
no longer to be born and reborn.
But if not,
if we never learn,
at least I'll have you.
So come now.
Put thoughts aside.
Forget your worries for now,
and lay beside me.
Breathe a sigh.
Feel the peace you have always known in my arms.
The painting style, known as "Energism" uses colorful swirls to show how all life is connected through an invisible flow of spiritual energy. Julia Watkins is considered to be the founder of the Energism Art Movement. Her work can be found in the collections of Deepak Chopra, Carnegie Mellon and Children's Hospital.
This print is a "museum quality" giclee print in a 16 x 20 white mat. Under glass, it will retain its colors and remain vibrant for over 100 years.
This website, page, images and text © Copyright 2012, Julia Watkins All Rights Reserved. May not be reproduced, copied or otherwise used without written permission.