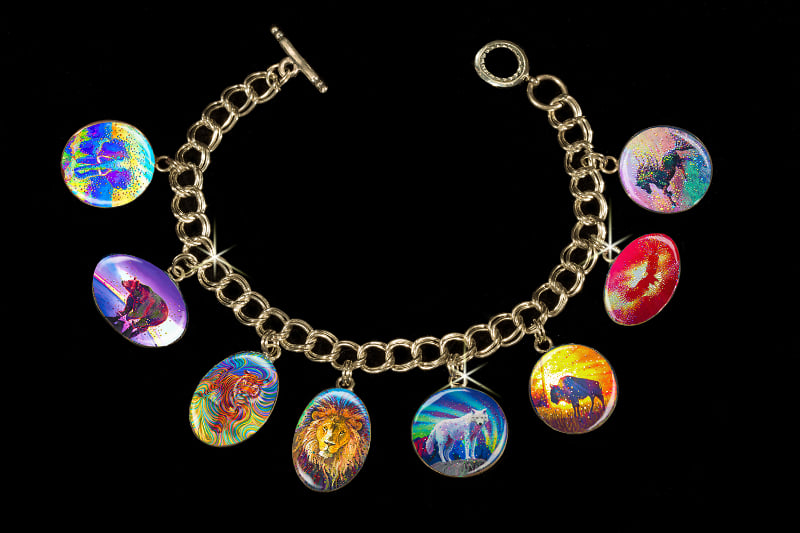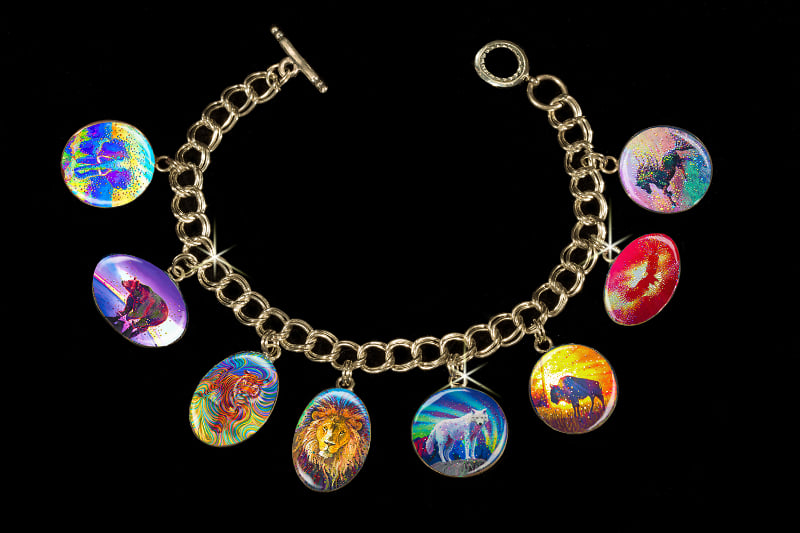 Powerful Spirit Guide - Animal Totem Metaphysical Charm Bracelet by Julia Watkins
$280.00
Get $100 off this item today! Just click ADD TO CART above then enter discount code TA100.
This item is offered in two options. 1. Charms only. PLEASE NOTE: IF YOU CHOOSE THE "CHARMS ONLY" OPTION ABOVE YOU WILL ONLY RECEIVE THE CHARMS 2. Charms plus a sterling silver double wrap bracelet.
This item made from fired resinated glass on solid sterling silver.
ABOUT
Now You Have An Entire Team Of Spirit Guides To Help You
Powerful New Totem - Spirit Guide Charm Bracelet Combines
and amplifies the energies of each guide for your benefit.
Click "Add To Cart" to get yours today.
______________________________________________
THE MOST POWERFUL WAY TO USE SPIRIT ANIMALS
Each totem animal helps the others work better and in ways you couldn't imagine.
When combined, these powerful spirit animal - totem charms create an unstoppable energy which works for your benefit. While some may not be your given spirit animal, they can be employed by you when needed. And remember, your spirit animals can change throughout your life, you can have more than one and sometimes they visit you just for special circumstances.
When added this way, each solid silver spirit guide - totem charm enhances the other exponentially.
_________________________________________________
THIS SET INCLUDES THE FOLLOWING CHARMS
Tiger Psychic Manifestation Charm. The tiger totem brings you the powers of intuition, foresight and independence. It adds a "far seeing" knowledge to the other charms making them work in the way you envision and want.
White Wolf Primal Instinct - Earth Power Charm. The white wolf enhances your intuition with the power of primal instincts derived from nature. You can sense things in people and the environment others do not. It enhances the energy of the other charms with the power of mother earth.
Lion Heart Courage & Belief Charm. Lion Heart gives you the courage to face whatever you need too while knowing that you will always come out on top. It enhances your belief in the powers of the other charms thereby empowering them with the energies of positive thought.
Red Eagle Totem Communication Charm. When combined with other charms, Red Eagle opens a direct channel of communication between you and your spirit animal(s). Often Red Eagle will come to you in dreams and lead you to the other spirit animals
Spirit Bear Self Confidence Charm. The spirit bear totem brings you the powers of confidence, self reliance and introspection. It enhances the results of the other charms by giving you the ability to "go it alone" when you need to without losing belief in yourself or what you are doing.
Indigo Elephant Obstacle Remover Charm. Like Ganesha, the Indigo Elephant knocks down all the obstacles that would keep the other spirit animal charms from working or you from obtaining what you want.
Sacred Buffalo Easy Abundance Charm. This charm not only brings you abundance without trying, it makes all of the other charms work much better without additional effort on your part. The sacred buffalo charm makes your life so much easier.
Spirit Horse Visionary Manifestation Charm. This charm lets your spirit run free while finding the answers you need. Spirit Horse adds a feeling of lightness and ease helping the other guides more easily manifest your intentions.
__________________________________________________
EACH CHARM IS CHAKRA BALANCED, ENERGY ENHANCED AND PERSONALLY BLESSED BY ENERGY ARTIST JULIA. Made from fired resinated glass and ground opal on sterling silver.
Copyright 2014-2015 Julia Watkins. All rights reserved.
Please allow up to two weeks for this very popular item to ship.