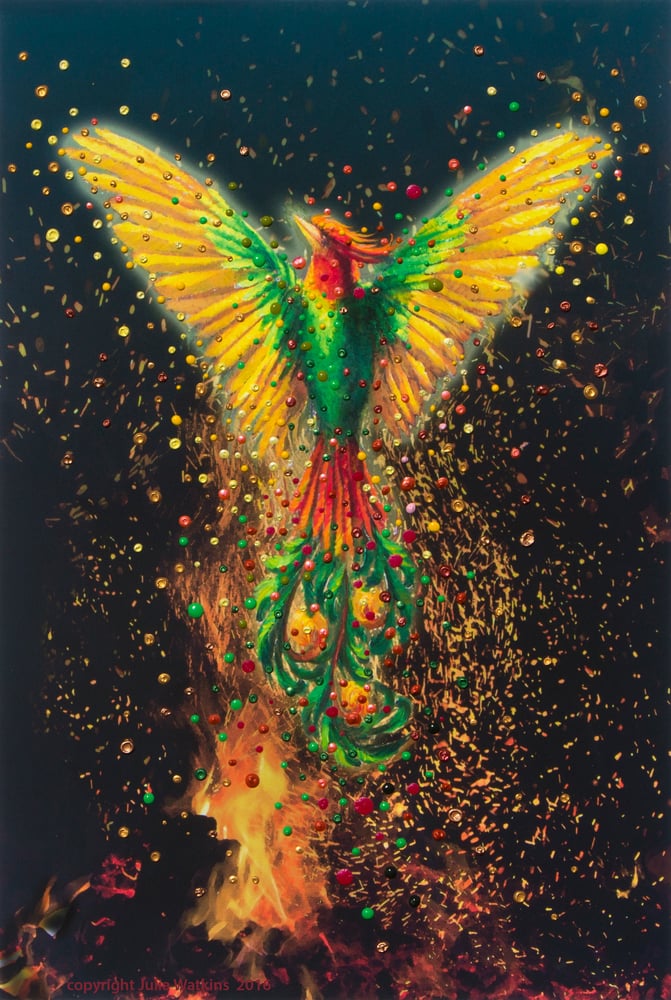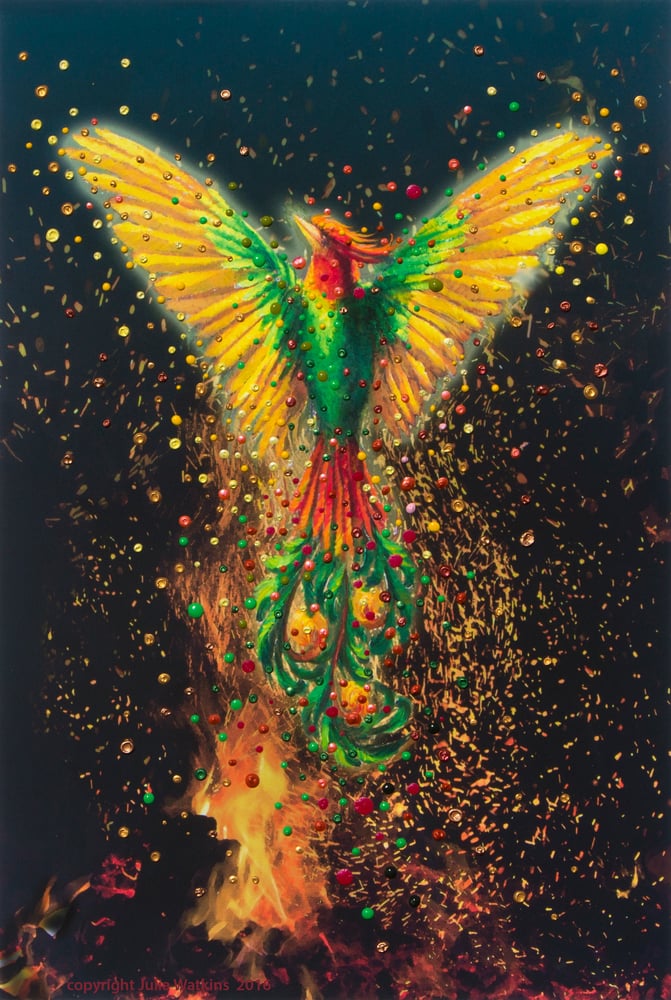 Phoenix Rising Energy Painting - Giclee Print
$58.00
The phoenix strengthens your resolve and power to overcome whatever may stand in your way and grow stronger each time you do. Learn about the legend of the phoenix below ... how it resurrects itself ... and how it can help you renew your life too.
When you place the print in your home you immediately create a positive healing space that strengthens your ability to create a new beginning for yourself. Try staring into the image right now and see how it makes you feel. This is the feeling you could have all of the time when you place the print in your home … and having it there in person is so much more powerful than looking at it on your computer.
Click ADD TO CART and get yours today.
About: This energy enhanced print is hand signed by the artist. It is a top quality museum grade print made using the finest materials available. It is archival, meaning it will remain vibrant and colorful for over 100 years.
______________________________________________________
ABOUT: Do things seem to get you down?  Are you facing difficult times? What if you could easily overcome them, and each time emerge even stronger?  The power of this energy enhanced Phoenix makes that possible. 
In legend, the Phoenix is a bird that shines as bright as the sun … so bright that after a long life it burns to ashes.  Then it rises from its own ashes of destruction to fly again, resurrected and renewed. 
This energy enhanced phoenix image by Julia Watkins represents your own resilience as you overcome whatever may try to pull you down.  From your struggles you are not destroyed, but instead are reborn even more powerful than before.  
If you have faced or continue to face adversity, criticism, doubt, fear or even past abuse, this phoenix will help lift you, renewing your spirit every time.
Click ADD TO CART to get yours today.
__________________________________________________________
EMBRACING THE ENERGY OF THE PHOENIX SAYS THAT NO MATTER WHAT:
* you will not be held down, 
* you will not be deterred,
* you will not be a victim,
* you will live forever, eternally bright and pure.
LET THIS PHOENIX IMAGE TRANSFORM YOU RIGHT NOW
Stare into it and say to yourself "My spirit will never die, but will eternally renew to its youthful power. No matter what may come I will always emerge even stronger. " 
Focusing on the image and saying these simple words will set the universe in motion to make them true for you ... so please do it now.
Can you feel the difference this has already made?  Many say they feel a great sense of relief when they allow the Phoenix into their heart.
This is just a small taste of what you could feel if you had a Phoenix Rising Print Or Energy Pendant near you all of the time.  Can you imagine what it would feel like to have it with you all day, every day. 
Click ADD TO CART to get yours today.
__________________________________________________________
ENERGY ENHANCEMENT - THIS IS NO ORDINARY IMAGE
The artist who made this energy image, Julia Watkins is world renowned for channeling astounding energies into her creations … so much so that they seem to come alive for those in tune with metaphysical powers.   
Each piece, whether it is a print or jewelry, emits a strong energy, personalized to you that makes it much easier to overcome your problems, renewing yourself and reaching ever higher levels each time you do.
_____________________________________________________
WE GUARANTEE IT WILL HELP YOU
In a world of few real guarantees, we give one that goes way beyond what others would even consider.  We guarantee that if you order a Phoenix Energy Pendant or Print, and focus on it each day, you will find it far easier to spiritually renew yourself, especially following upsetting events.*
If it doesn't work for you, return it within 30 days of purchase for a refund.*
_____________________________________________________
WHAT'S THE HOLD UP?
* You have a guaranteed way to overcome whatever is getting you down,
*You get to try it risk free for 30 days,
SO WHY WAIT?
Click ADD TO CART and get yours today, before this offer expires.
_______________________________________________________
PLEASE ALLOW TWO WEEKS FOR THIS VERY POPULAR ITEM TO SHIP.
*This image and writing all copyright 2016 Julia Watkins & Energism Art Corp. All rights reserved.
Disclaimer And Waiver: These items are not intended to be used in place of medical advice, counseling or treatments. Always see a doctor if you are experiencing medical or psychological difficulties. By ordering, you agree to hold the artist, company and related entities or individuals harmless.
NOTE: Larger print (larger than our normal or smallest size) are custom order and therefore only returnable for a store credit.