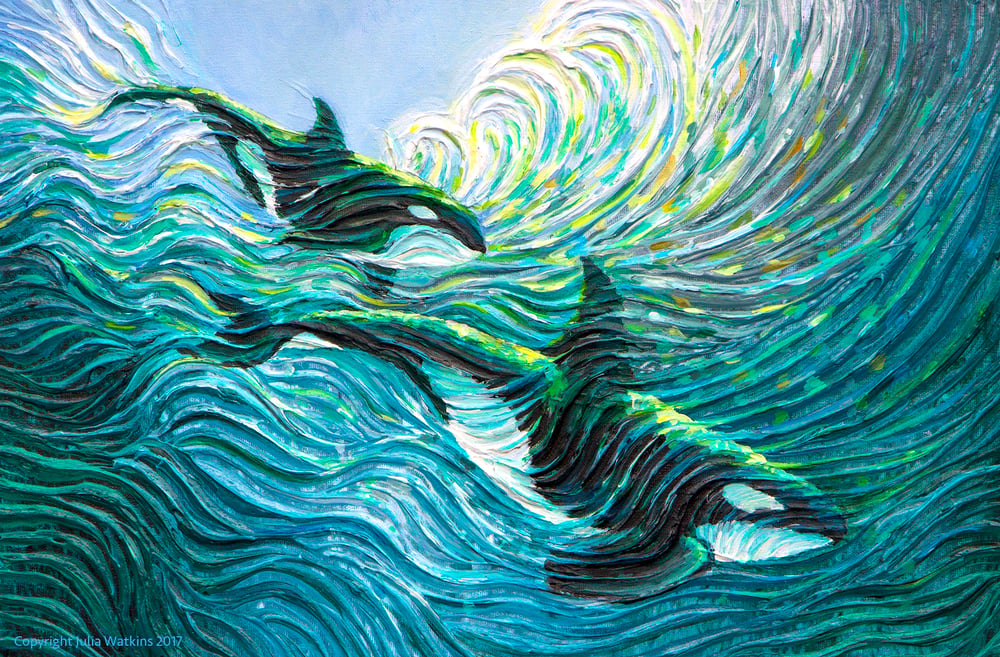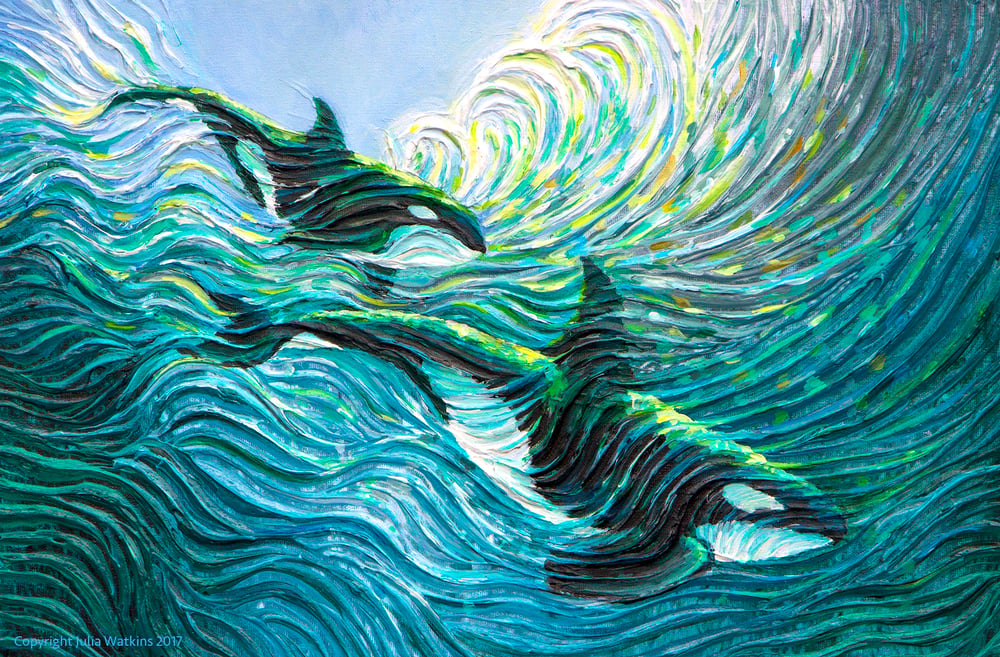 Orca Healing Energy Painting - Giclee Print
$58.00
This energy channeled image connects you with orca spirit, providing the abilities of clear communication, healing, cooperation, family togetherness and wordless understanding. Shamans who connect to orca spirit believe it gives them the ability to heal using just their voice!
Stare Into It Now And Experience A Profound Change In Your Energies. Learn how it works below.
Click ADD TO CART then go to the checkout to get one of those that are still available.
We guarantee if you get this beautiful print, its energies will help enhance both your communication abilities and your ability to heal. If it doesn't work for you, return it within 30 days for a refund. *
____________________________________________
This energy channeled print is made with loving care in our Eagle, Colorado studio. Chakra balanced, energy enhanced and personally blessed by the artist. This is far more than a poster. It is a high grade archival, fine art print which will remain vibrant and colorful for over 100 years. Sold with a 30 day money back guarantee and a 120 day exchange guarantee.
Click ADD TO CART to get yours while they are still available
____________________________________________
HEALING USING JUST YOUR VOICE - THE GIFT OF THE ORCA
Have you ever known someone whose voice just seemed to soothe you, put you at ease and even create a healing environment? That person was probably in touch with Orca spirit even if he/she did not know it. Orcas who are closely connected to humans in the spirit world, rely on advanced communication both for survival and to heal in amazing ways we don't yet fully understand.
You may have noticed that you too can change your voice to affect others in a positive way, either in speech or in song. Most discover this ability when they sing their children to sleep. It is something passed from mother to child as far back as we can remember.
This is actually a gift, the song of the sea and the Orca, which you can enhance by understanding where it comes from, then focusing on improving its abilities within you by staring into this energy channeled Orca Healing image.
Try staring into it now and see if you feel a difference. It will improve your healing abilities as well as your ability to communicate, guaranteed.*
Looking at this image online gives you just a small taste of what it would feel like to have an Orca Healing Energy Pendant or Print with you all the time.
Click ADD TO CART then go to the checkout to get yours now.
_________________________________________________
WE GUARANTEE
that if you get a "ORCA HEALING" energy print or pendant, and focus on its energies for two weeks, you will begin to feel your ability to communicate greatly enhanced and also notice that your voice begins to have a very soothing affect on others. If not return it within 30 days for a refund.*
CLICK "ADD TO CART" THEN GO TO THE CHECKOUT TO GET YOURS WHILE AVAILABLE
*Our obligation under this guarantee is for the price paid to us for the item only. No other warranties are made and no other obligations or liabilities are assumed on our part. Always consult a physician if you are experiencing medical or psychological difficulties.
_________________________________________________
This page, writing, images and all materials Copyright 2017 Julia Watkins. All rights reserved. May not be copied or reproduced without express written permission.
NOTE: Larger prints (larger than our normal or smallest size) are custom order and therefore only returnable for a store credit.