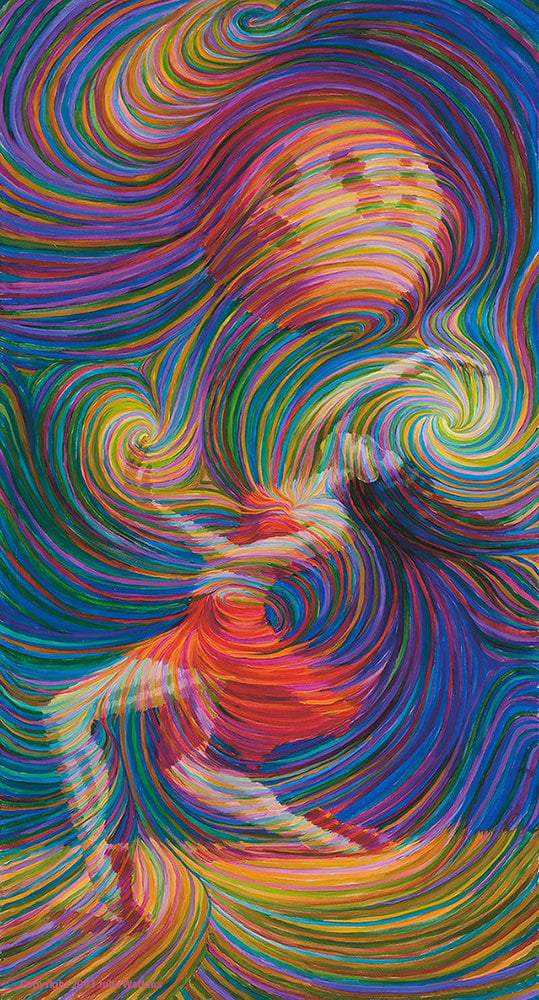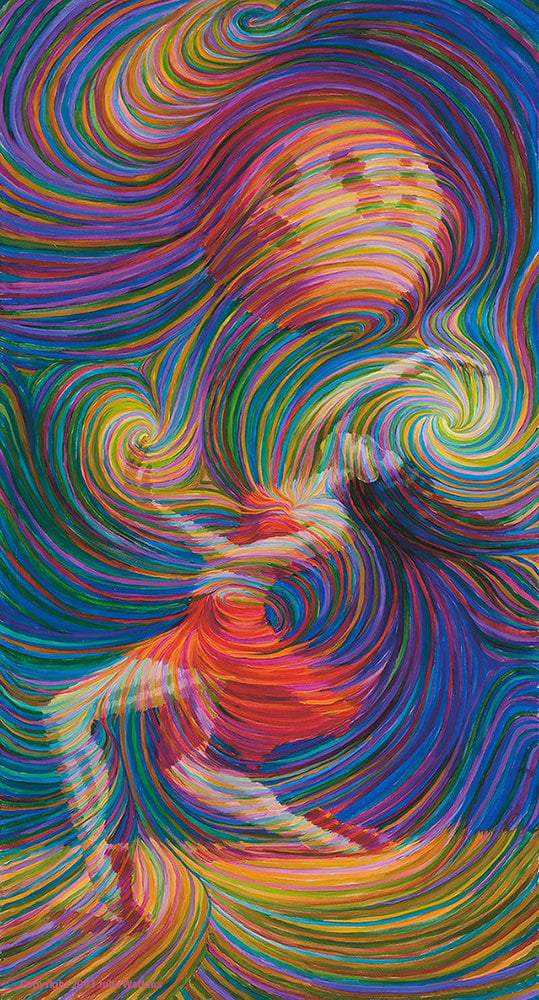 Moon Dancer
$58.00
Reconnects you with the divine feminine spirit.


Based on the painting "Moon Dancer" by award winning energy artist Julia Watkins, this image celebrates the divine feminine spirit. In it, a women dances with complete abandon, connecting her energy with the celestial heavens above
This stunning hand-signed museum grade giclee print has been reproduced from the painting "Moon Dancer" by energy artist Julia Watkins. This is a top quality giclee print where you can see individual brush marks from the original. It will hold its color over 100 years! It is hand signed by the artist.
Size: Matted to a standard 16 x 20 size.
The Energy
Moon Dancer helps you reconnect with your powerful feminine energy, freeing yourself to become part of the great mystery and its deep rhythms. By losing yourself to it, you find yourself again.
Moon Dancer brings to you the power of intuition, beauty, joy and most of all freedom.
About This Art Style
The swirls in this image represents the spiritual energy that exists all around us. Pioneered by artist Julia Watkins, this art style, known as energism seeks to use art to help humanity connect to universal energy flow promoting both healing and higher consciousness.
Ms. Watkins artwork is currently in the collections of such notables as Deepak Chopra and Carnegie Mellon University.
For more information on Julia Watkins, visit the Platris Fine Art website at http://www.platris.com or visit the facebook page Energy Artist Julia.
Moon Dancer Poem Below
Moon Dancer
By Spencer Kluesner
She dances to the drum's rhythmic pulse.
Until we are entranced.
Until we begin to feel as if we were with her
A part of her
Living through her
Anticipating her next move
And she twists
With an instinctual certainty
An aquarian dream
An ancient dance to the female cycles of the moon
Knowing her next move without thinking
Feeling her next step while dreaming
I want to be her
I want to feel the infinite forces of energy
Flowing through my being
I want to let go into that space
As only a women can
And I may
But if my body can't dance
My spirit still can
And I'll connect to the infinite
To the nothingness that is really the everything
The whole of our existence
The energy of all that was
And all that will be.
This website, page, images and text © Copyright 2005-2012, Julia Watkins All Rights Reserved. May not be reproduced, copied or otherwise used without written permission.