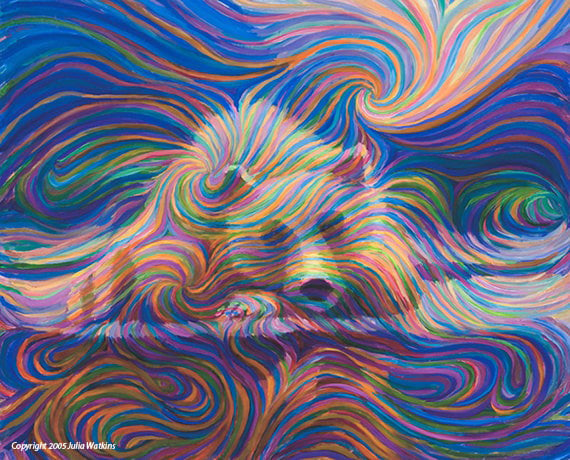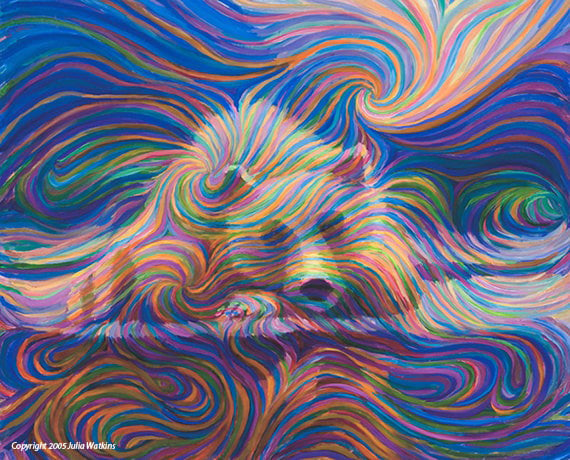 Medicine Bear
$58.00
Native Americans believe the bear to be the "bringer of strong medicine magic." Placing this stunning, hand-signed bear totem print in your home is like bringing a "lucky star" into your midst. It is infused with the energies of introspection, shamanistic healing, fearlessness, intelligence and astrological harmony.
Based on the painting "Bear Mountain" by energy artist Julia Watkins, this is a top quality, museum grade giclee print where you can see individual brush marks from the original. It will hold its color over 100 years!
Size: Matted to a standard 16 x 20 size.
CONNECTING TO THE ENERGY
In this painting, the bear's eyes follow you. No matter what angle you look at him from, the medicine bear seems to make eye contact with you. Try looking at him from the left side, right side, above and below. Energy artist Julia painted it this way to create a totem piece where the spirit animal develops a personal bond with you that strengthens each time you look at him. The eyes are the windows to the medicine bear's immense astral connections. Making eye contact with him ties your spirit to the other side. Of course it is much more powerful in person than seeing it on the web.
ABOUT THIS ART STYLE
The swirls in this image represents the spiritual energy that exists all around us. Pioneered by artist Julia Watkins, this art style, known as energism seeks to use art to help humanity connect to universal energy flow promoting both healing and higher consciousness.
Ms. Watkins artwork is currently in the collections of such notables as Deepak Chopra and Carnegie Mellon University.
This website, page, image and text © Copyright 2012, Julia Watkins All Rights Reserved. May not be reproduced, copied or otherwise used without written permission.