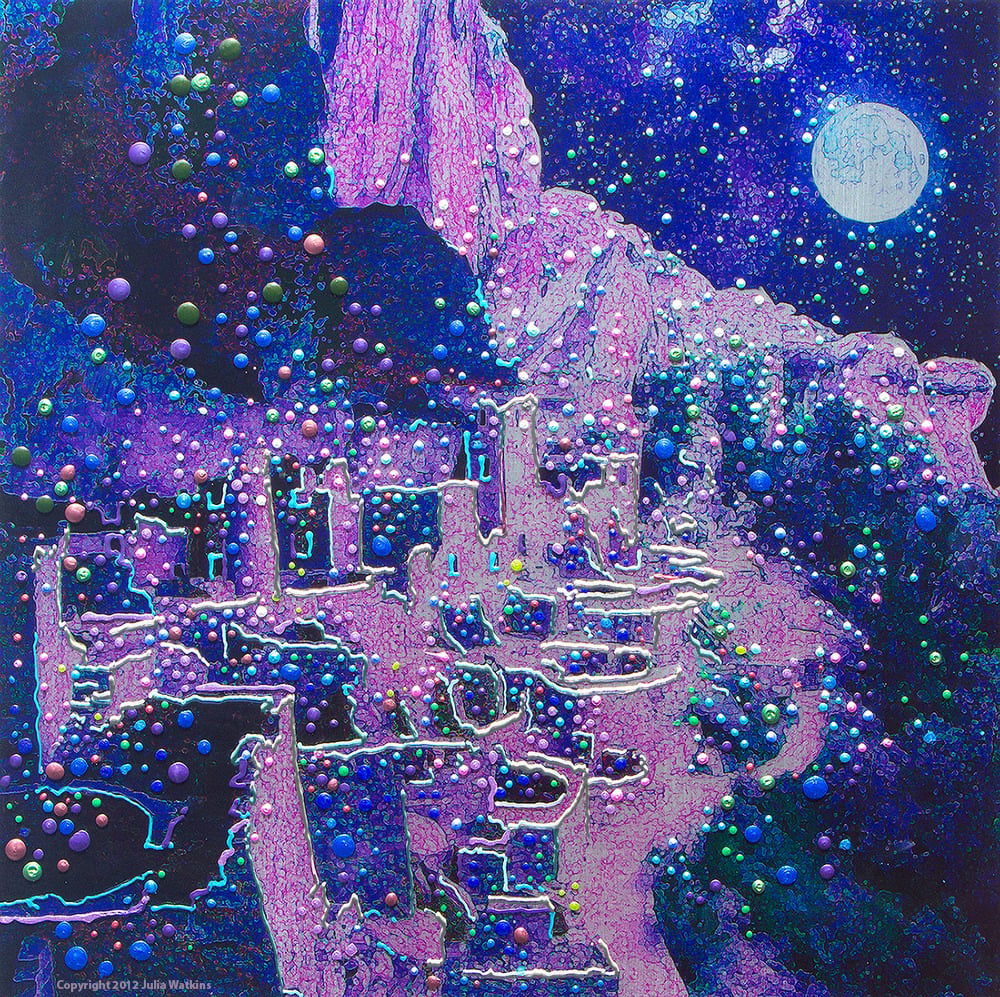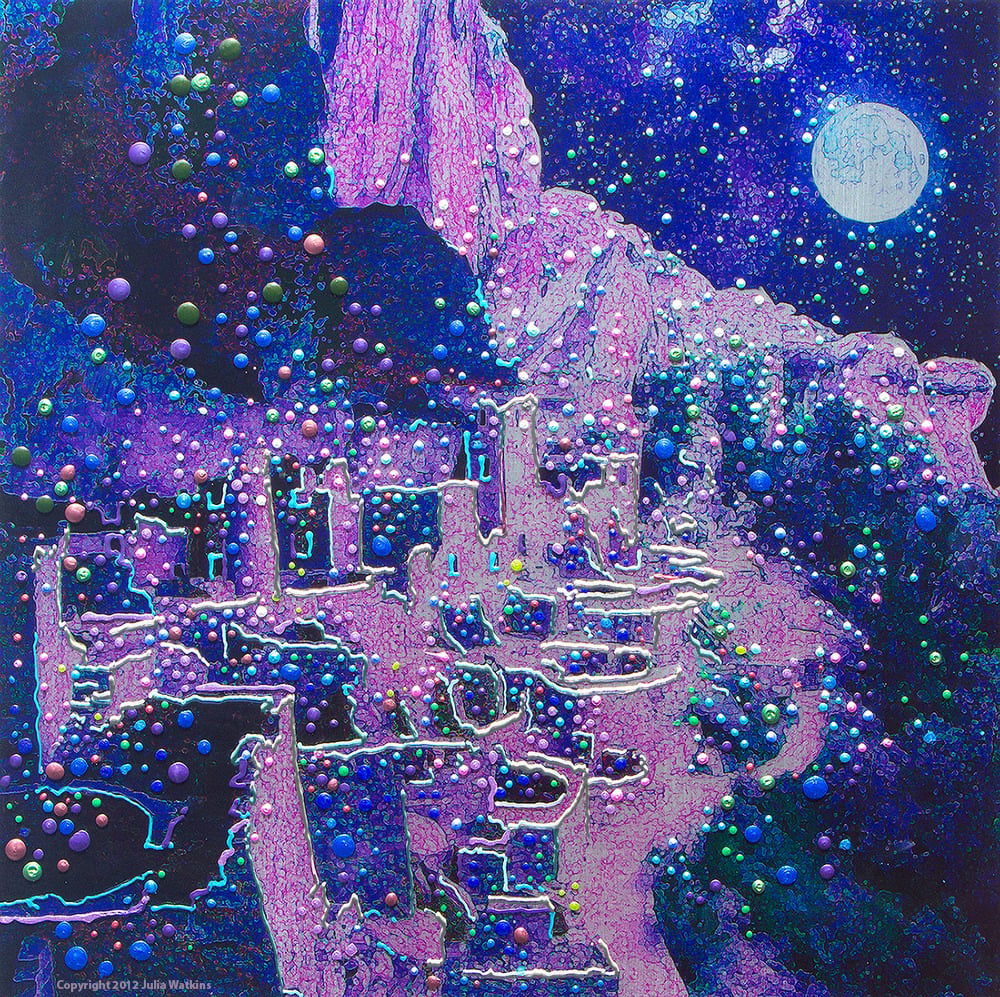 Ghosts Of The Anasazi
$58.00
Beautiful energy enhanced giclee prints by world renowned "Energy Artist Julia"
About
The Anasazi ("Ancient Ones") lived in the American Southwest, developing a complex and highly spiritual civilization over 1,000 years ago. They are the ancestors of modern day Pueblo Native Americans. Anasazi petroglyphs, paintings and ruins can be found in abundance in this area.
When you hike the ruins of the villages they built into the cliffs, especially on a moonlight night as depicted in this painting, you experience an extremely strong sense of their ancient spirits and energy ... the wisdom and life of communities that lived in harmony with the land.
Harmonious Balance In Your Home
A common thread in the religions among descendants of the Anasazi is the concept of harmony and balance. It is the reaching of a total reverence and respect for all things, to be at peace and in harmony with all these things. Besides bringing a sense of the mystical and magic to a room, the painting "Ghosts Of The Anasazi" also fills us and our homes with this feeling of peace and harmony.
Available Gicleee Prints
We are offering top quality giclee prints of "Ghost Of The Anasazi" a powerful metaphysical painting by world renowned "Energy Artist Julia." Just click "Add To Cart" above.
These are not posters but instead are the same archival quality prints collected by museums. They are printed using special inks and paper so hey will remain colorful and vibrant for over 100 years. Each is hand-signed by Energy Artist Julia
From The "Sacred Places" Collection
This is the first in a series of paintings by world renowned "Energy Artist Julia" that channel and emit the energy of "sacred places" found throughout our world. These are places we instinctually recognize as spiritually powerful. We have been drawn to them since ancient times.
About The Artist
A prodigy artist who started art school and began taking graduate level classes at the age of 16, Julia Watkins is best known as the founder of the Energism Art Movement. This is a style of art and concept where artists create art designed to help one connect to positive metaphysical energy and achieve higher levels of conscoiousness through art. Her paintings are in the collections of Deepak Chopra, Carnegie Mellon and Children's hospital. For more information on Julia Watkins visit her website at http://www.platris.com or visit her on facebook and see what others have to say at: https://www.facebook.com/pages/Energy-Artist-Julia/153285945646
Please Note: DUE TO LARGE DEMAND FOR THESE ITEMS PLEASE ALLOW TWO WEEKS FOR YOUR ORDER TO SHIP. We send items US Postal Priority which can take between 2 days and 2 weeks to arrive. Please let us know if you need to arrange for quicker shipping. We charge shipping for international orders but any customs fees or duties are to be paid by recipient. All originals made to order with your energy in mind.
This page, image and text © Copyright 2012, Julia Watkins
All Rights Reserved. May not be reproduced, copied or otherwise used without written permission.