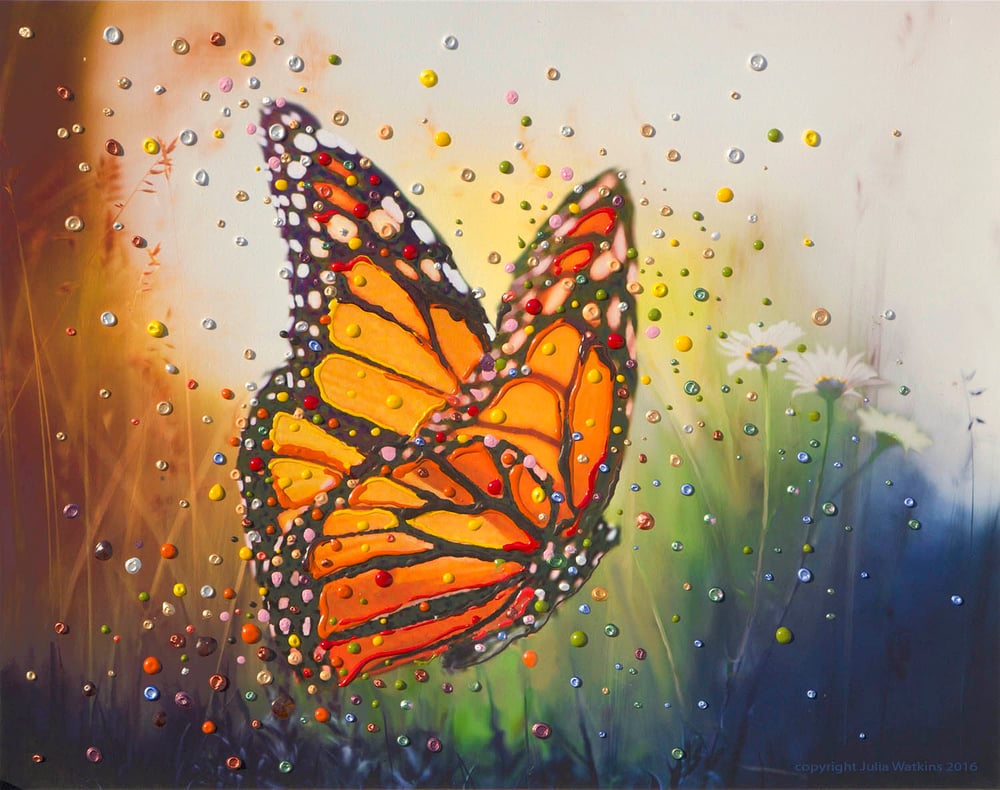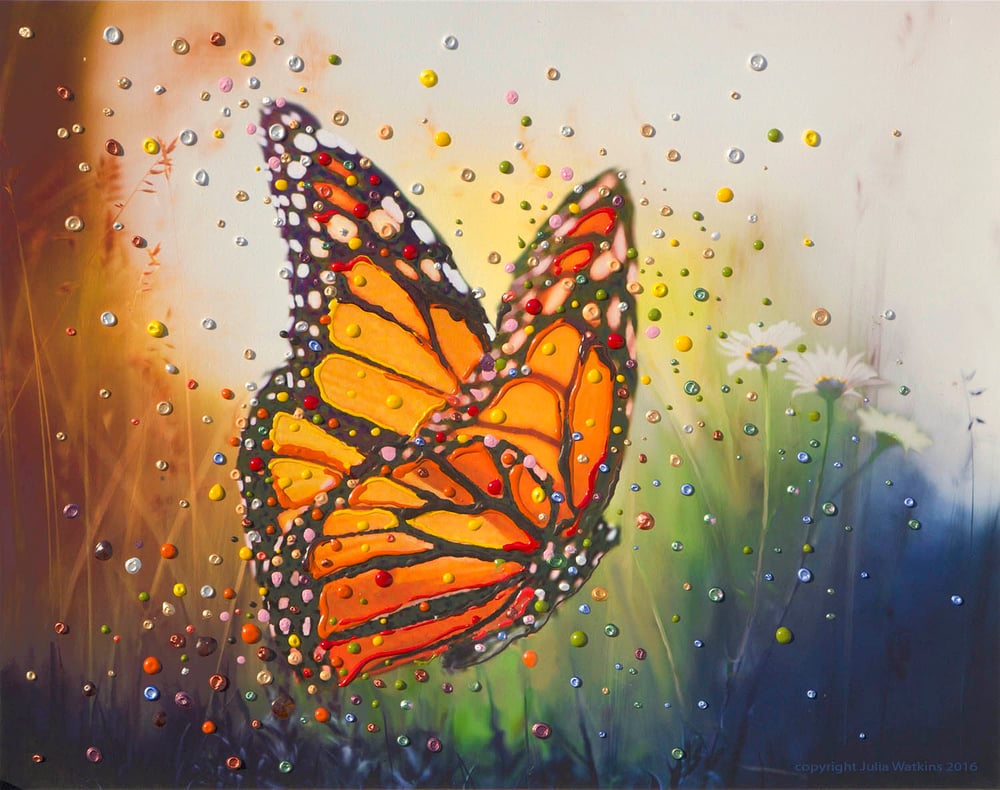 Butterfly "In The Moment" Energy Painting - Gicleee Print
$58.00
Learn From The Butterfly To Live In The Moment
And Watch Your Spirit Transform Into A Being Of Pure Beauty & Light
ABOUT: The butterfly not only represents your spiritual growth as you blossom into a being of beauty, but it also teaches you that living in the moment guarantees a rich, fulfilling and joyful life.
When you embrace the spirit of the monarch butterfly you say:
1. I will live each and every moment of my life to its fullest, filled with love and joy.

2. I will let my heart and spirit float free on the winds, far above worry and concern.

3. And by doing this, I will transform into a beautiful spiritual being.

I've communicated with the butterfly spirit and channeled its wonderful energies into this image so that like the butterfly you can live fully in the now.
Focus on it and let your heart alight on the winds of life in carefree joy. Breath in. Absorb all your senses can provide and recognize that the divine can be found in the small details of this very instant.
This is the feeling you will have with you always when you place a Butterfly "In-The-Moment" energy print in your home or wear a pendant.
Click "Add To Cart" to get yours today.
About: This energy enhanced print is hand signed by the artist. It is a top quality museum grade print made using the finest materials available. It is archival, meaning it will remain vibrant and colorful for over 100 years. Click ADD TO CART to get your very own print.
Click ADD TO CART to get yours today. Sold with a 30 day money back guarantee and a 120 day exchange guarantee. Prints larger than our smallest size are custom order and not returnable.
__________________________________________________________
ENERGY ENHANCEMENT - THIS IS NO ORDINARY IMAGE
The artist who made this energy image, Julia Watkins is world renowned for channeling astounding energies into her creations … so much so that they seem to come alive for those in tune with metaphysical powers.   Each piece, whether it is a print or jewelry, emits a strong energy, that makes it much easier to experience spiritual transformation and healing powers.
___________________________________________________________
WE GUARANTEE THIS WILL HELP YOU*
In a world of few real guarantees, we give one that goes way beyond what others would even consider.  We guarantee that if you order a "Butterfly In-The-Moment" Energy Pendant or Print, and focus on it each day, you will begin to recognize the divine in all the small things around you and feel your spirit begin to float free of worries.*
If it doesn't work for you, return it within 30 days of purchase for a refund.*
Click ADD TO CART to get yours risk free.
___________________________________________________________
WHAT'S THE HOLD UP?
You have a guaranteed way to really feel the energies of bliss.
You get to try it risk free for 30 days.
So why wait?
Click ADD TO CART and get yours WHILE YOU CAN!
___________________________________________________________
All images and writing copyright 2016 Julia Watkins and Energism Art Corp. All rights reserved.
*Your recourse under our guarantee is limited to the price paid directly to us for the item and no other guarantees or warranties are made, and in purchasing you agree to the same.
Disclaimer And Waiver: These items are not intended to be used in place of medical advice, counseling or treatments. Always see a doctor if you are experiencing medical or psychological difficulties. By ordering, you agree to hold the artist, company and related entities or individuals harmless for any damages you may believe you incur.